My daughter was asked to be one of the "angels" in an event by Hiligaynon Association in Norway held on the 27th of May 2017. I was glad that she agreed to join for I had a memorable experience and snap shots too!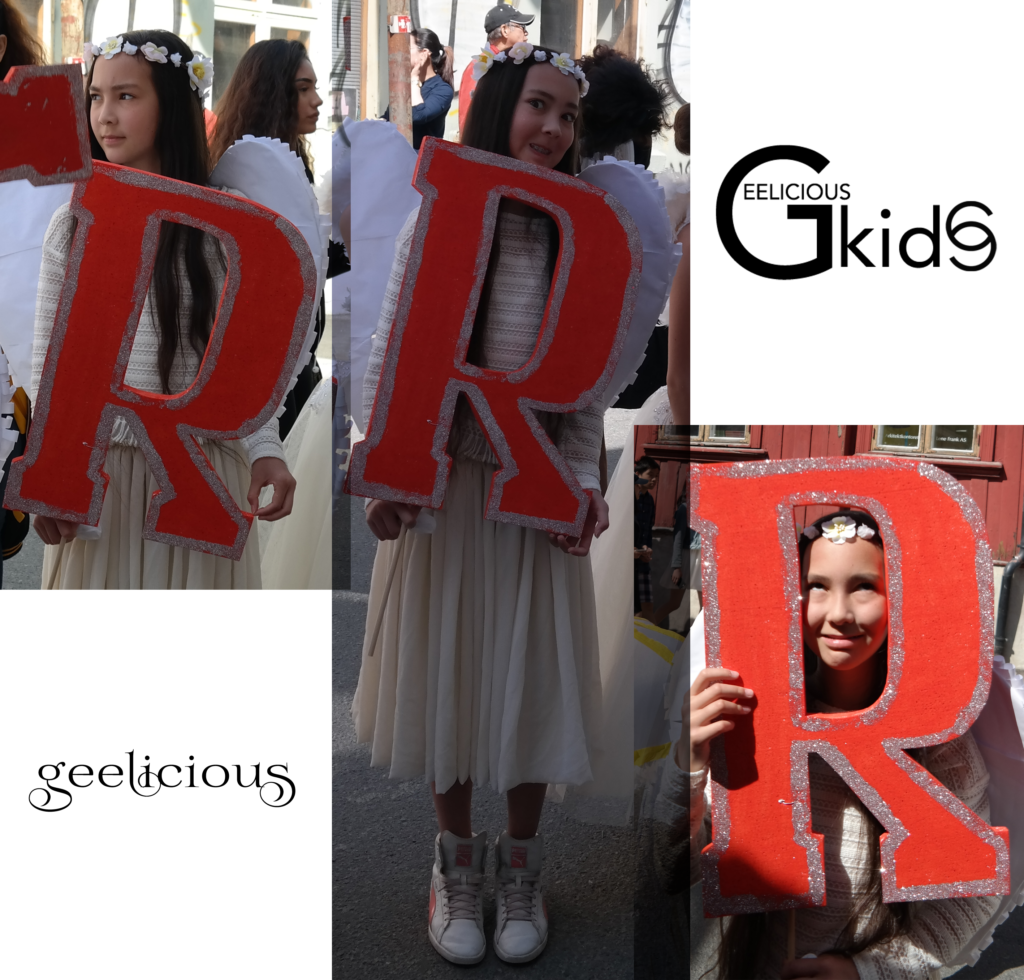 It was a parade called Flores de Mayo held in the heart of Oslo.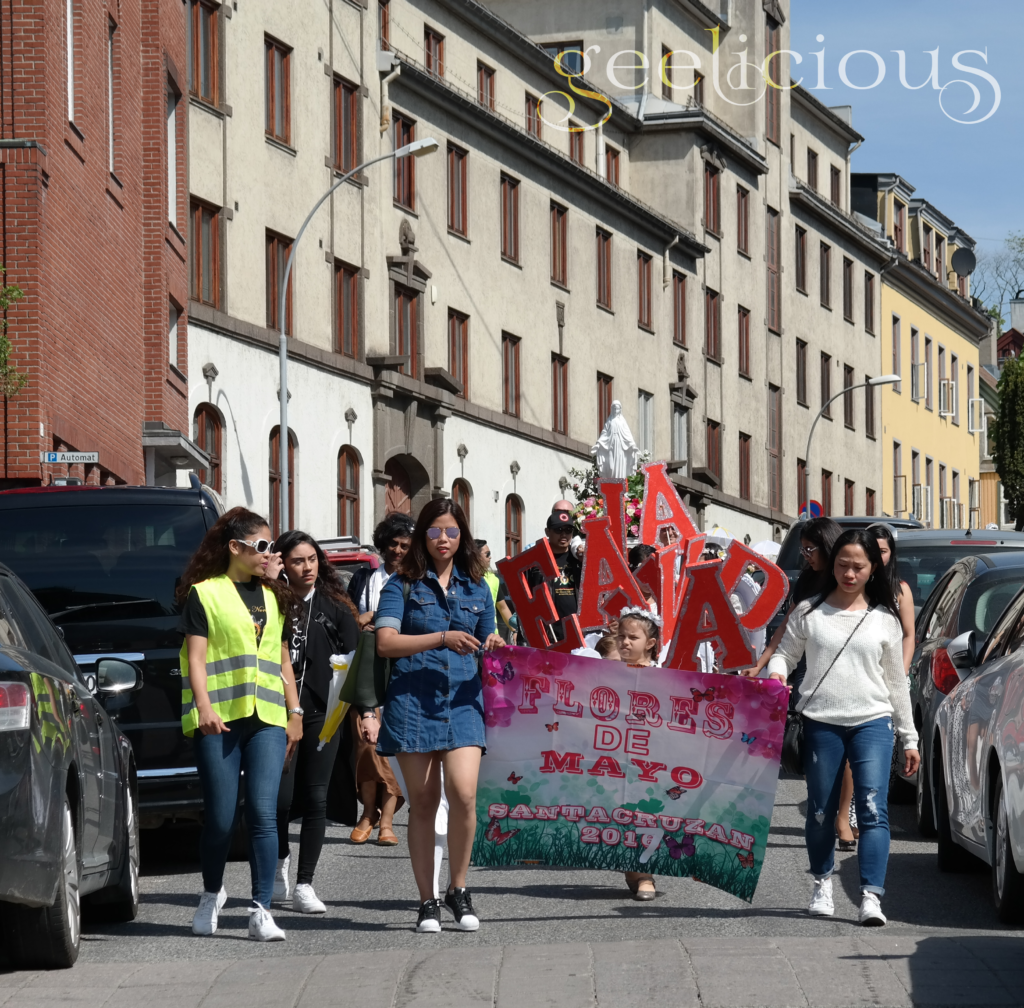 People lined up: toddlers in their pushchairs,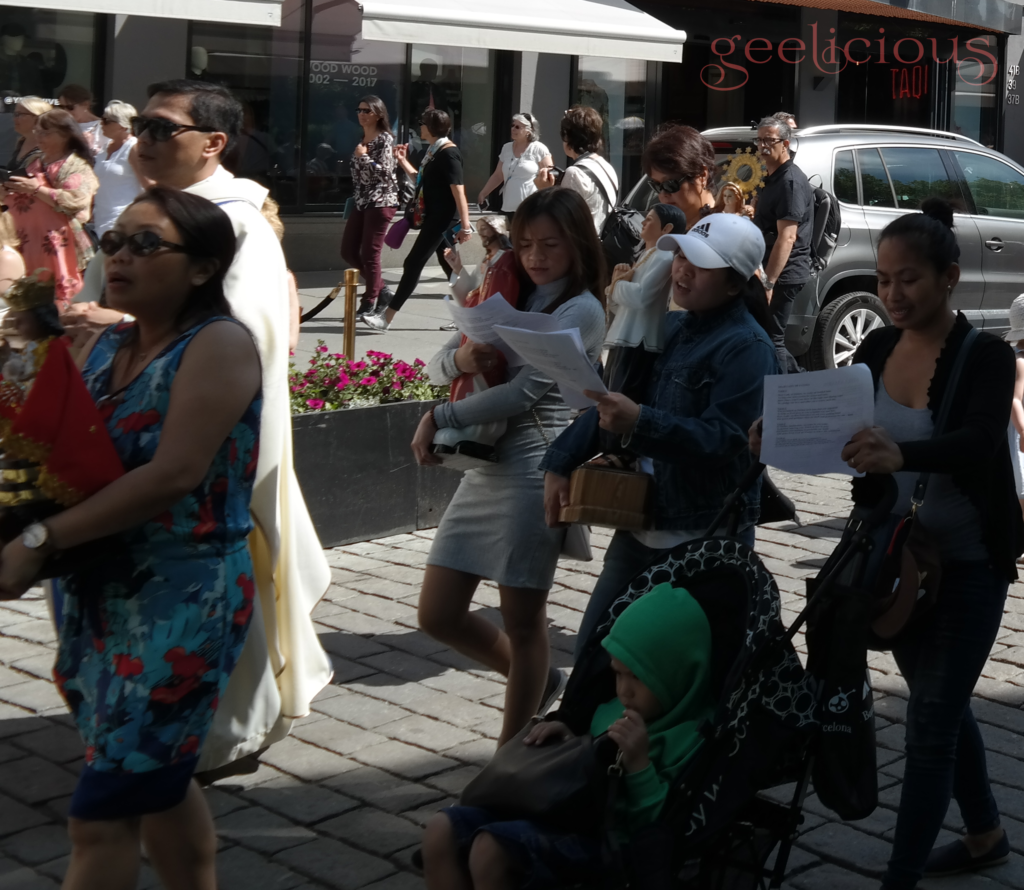 people carrying statues of saints,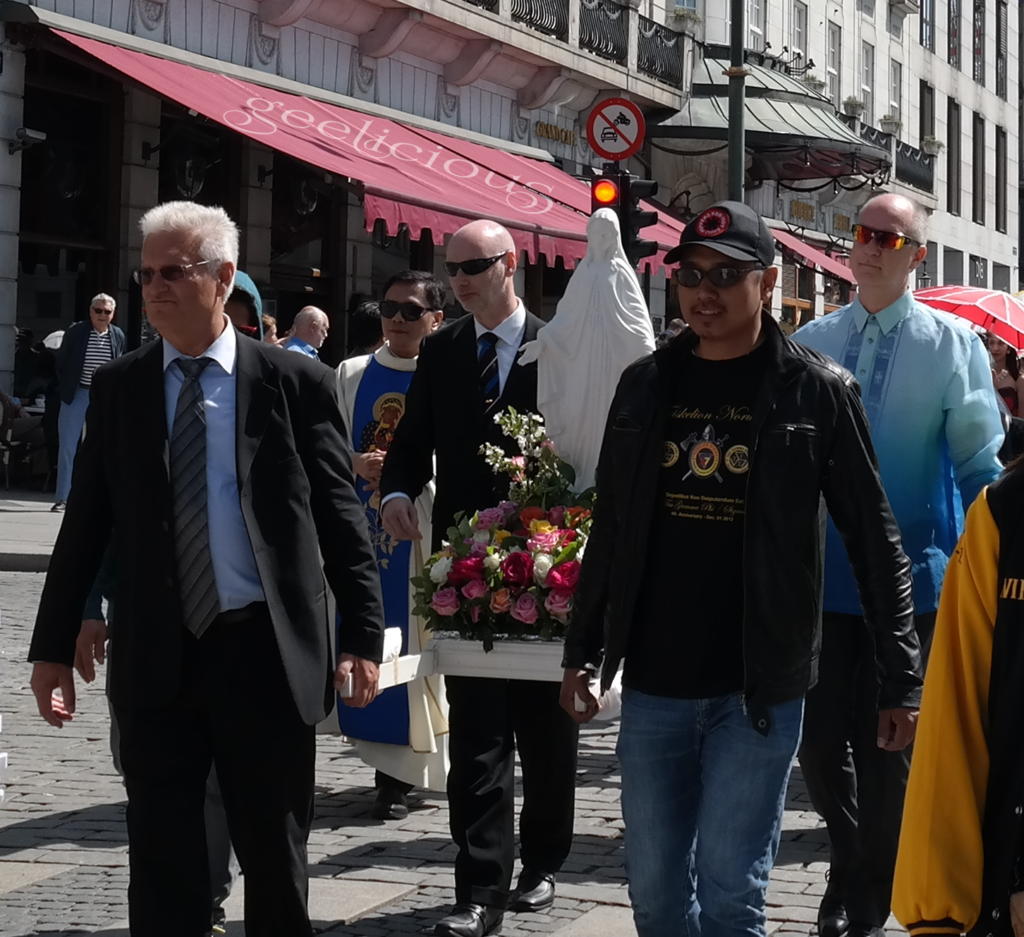 kids in their cute angel outfits holding their respective alphabets that spelled AVE MARIA ,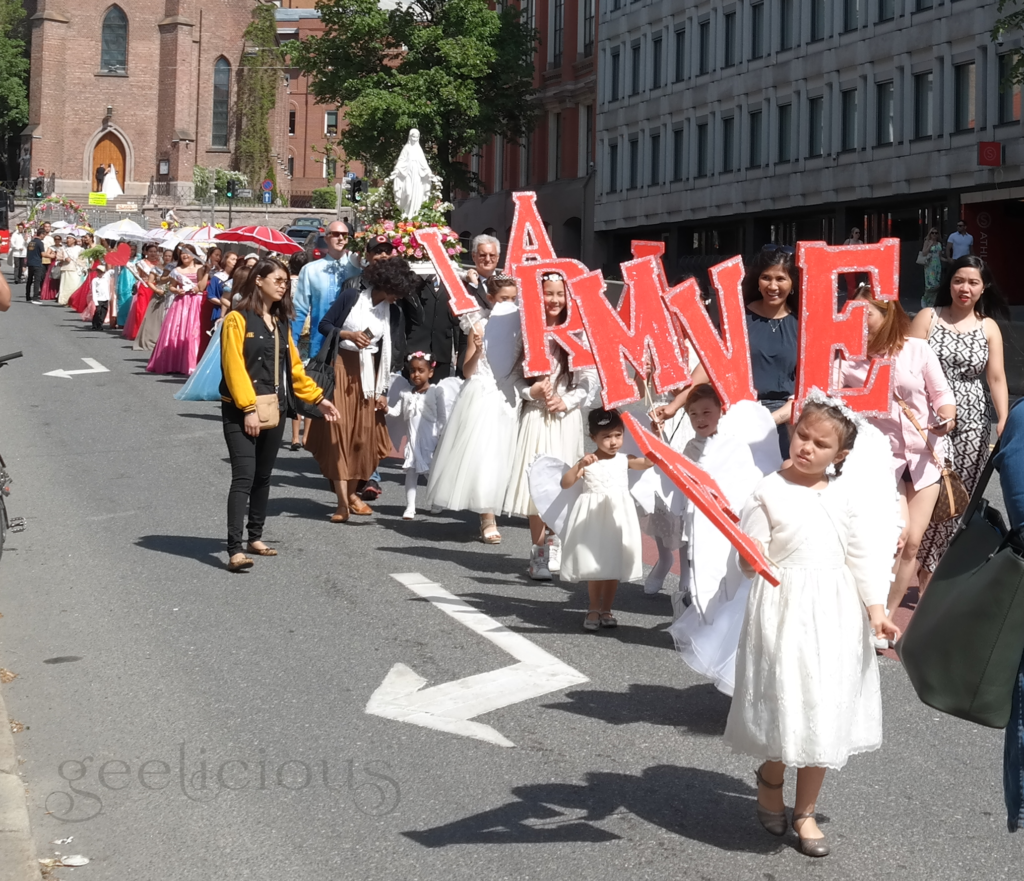 and of course… the "Queens" or "Reyna" – as you may notice printed  on their sashes.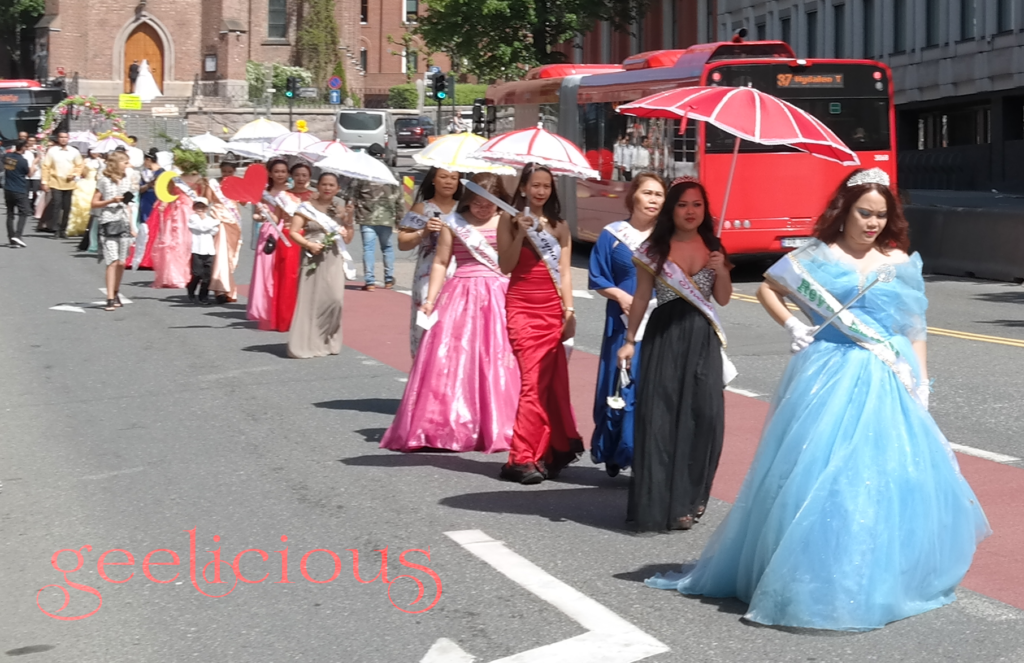 It started from Mariagården….
down to Akersgata
It was fun to see people on the street stopped to watch and even took photos/videos as the parade arrived in Karl Johans gate.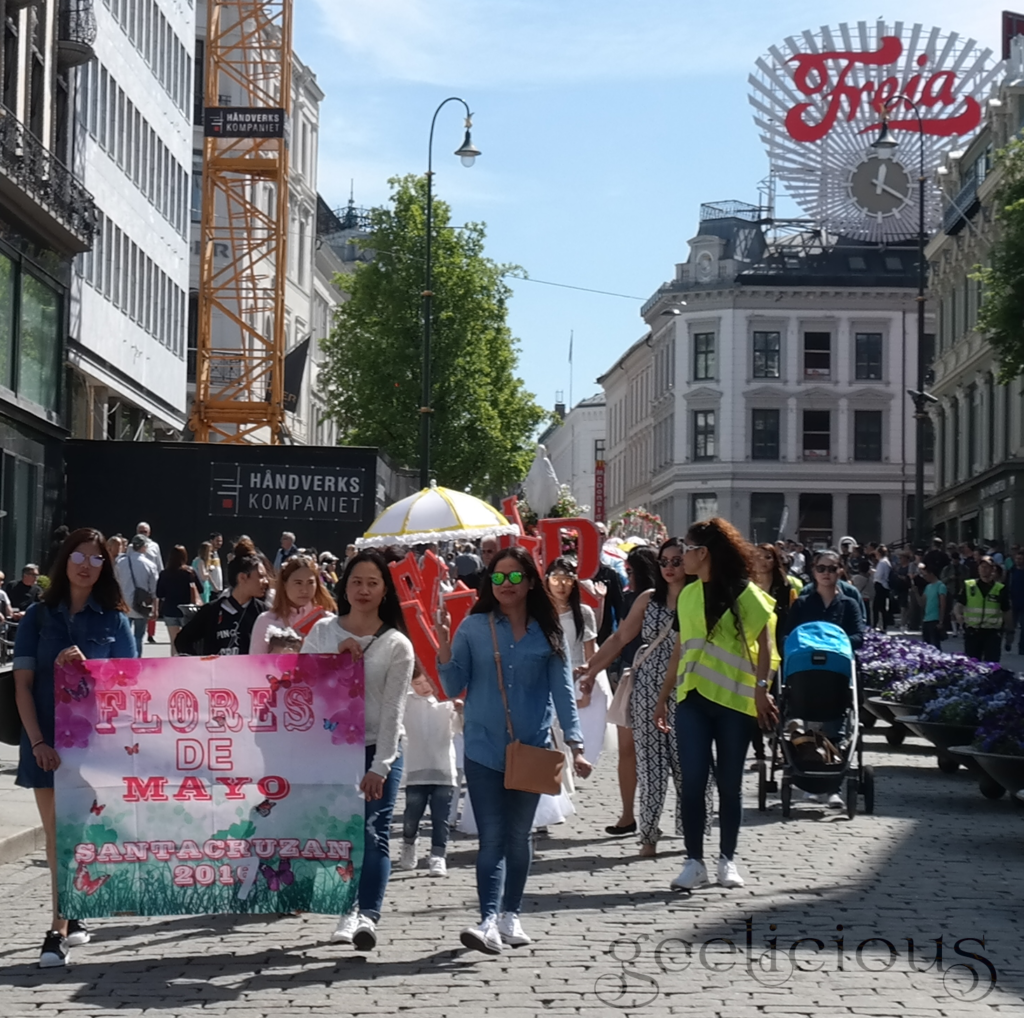 People who sat in the restaurants´serving area along the road got themselves a free show!  Then the parade turned right to Universitetsgata.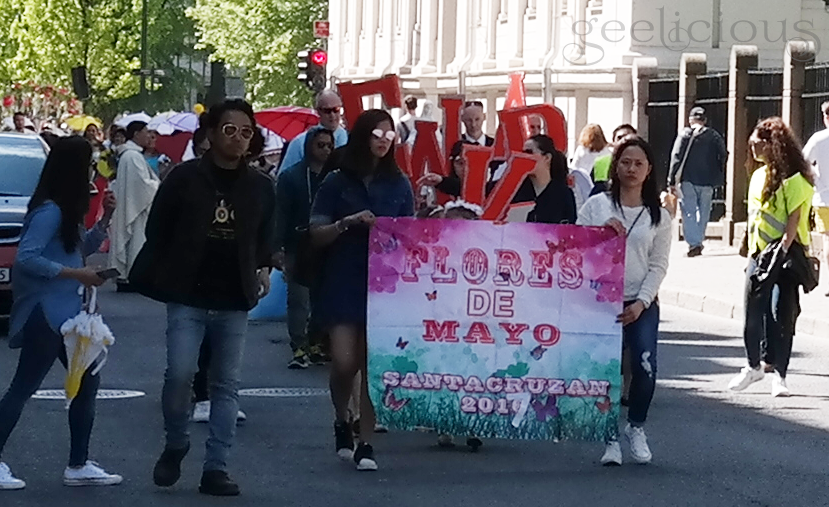 Passed the National Gallery, the "Angels" were having a hard time keeping their places in the parade.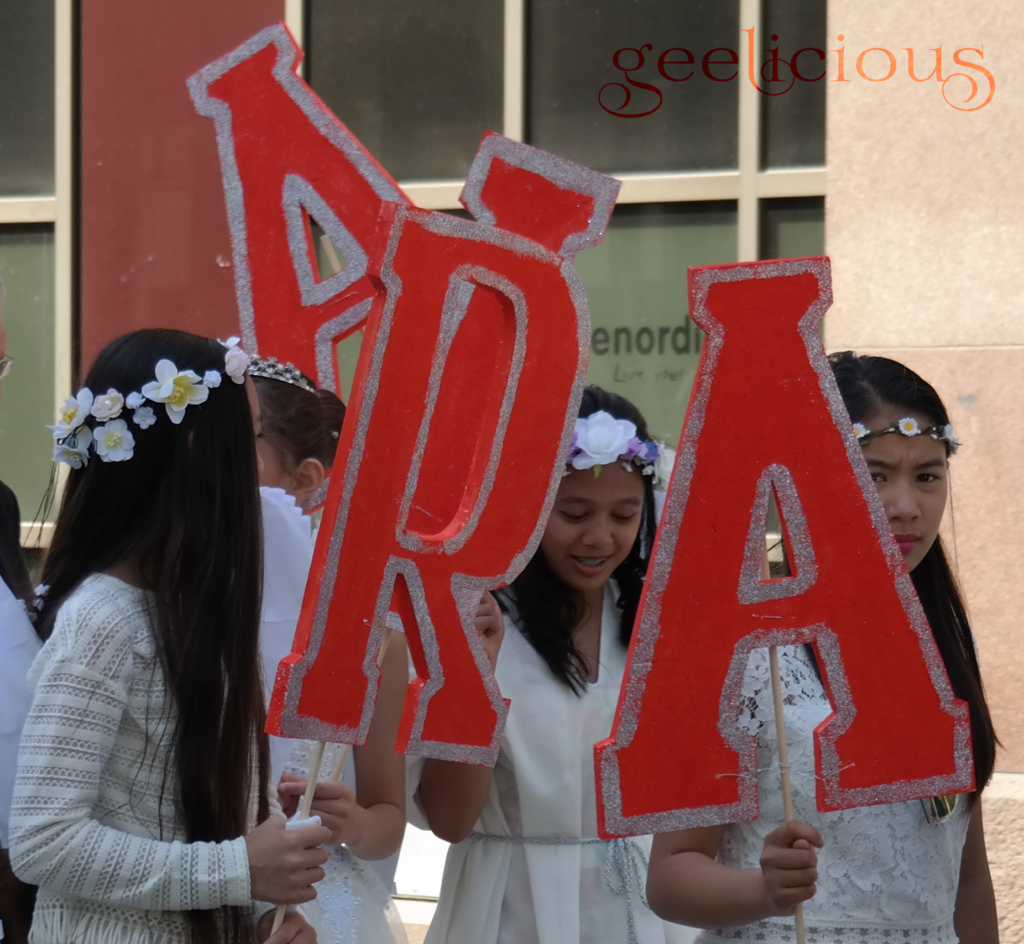 But the parade must go on…. Heading towards St. Olavs Plass, the police had to secure the crossing of the main street 162 first, then off they walked again…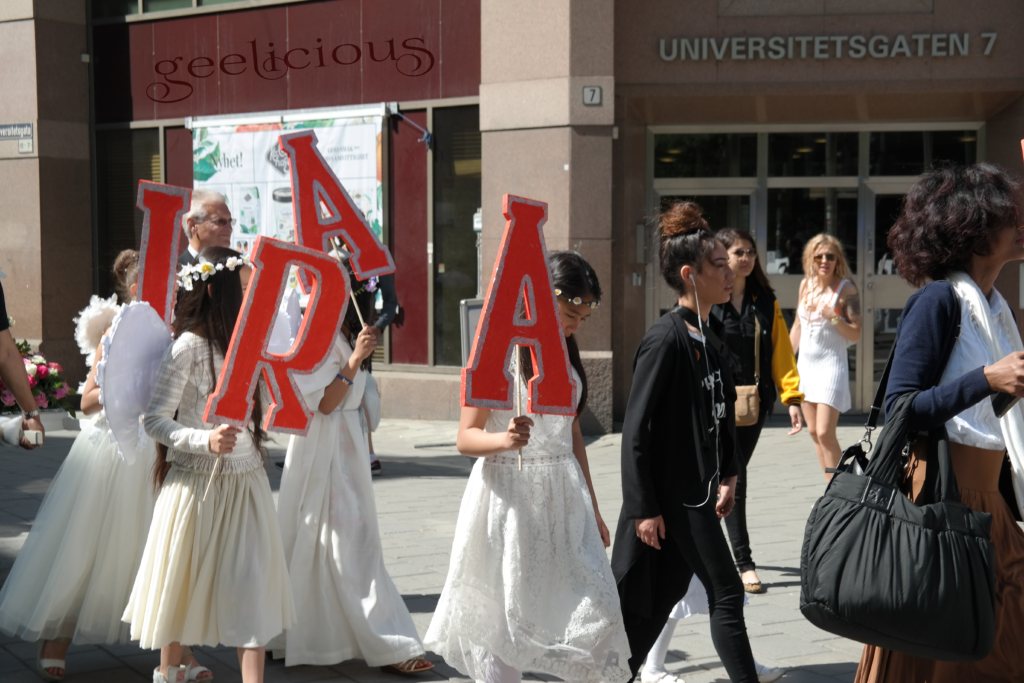 Keeping up the pace as the parade reaches St. Olavs gate
was not that easy for the little ones; some were getting peckish, some wacky or unpredictable and some were just simply getting tired, I guess.
But hey, no one could blame them. It was after all a long walk.
Lucky for some who gots to relax in their buggy 🙂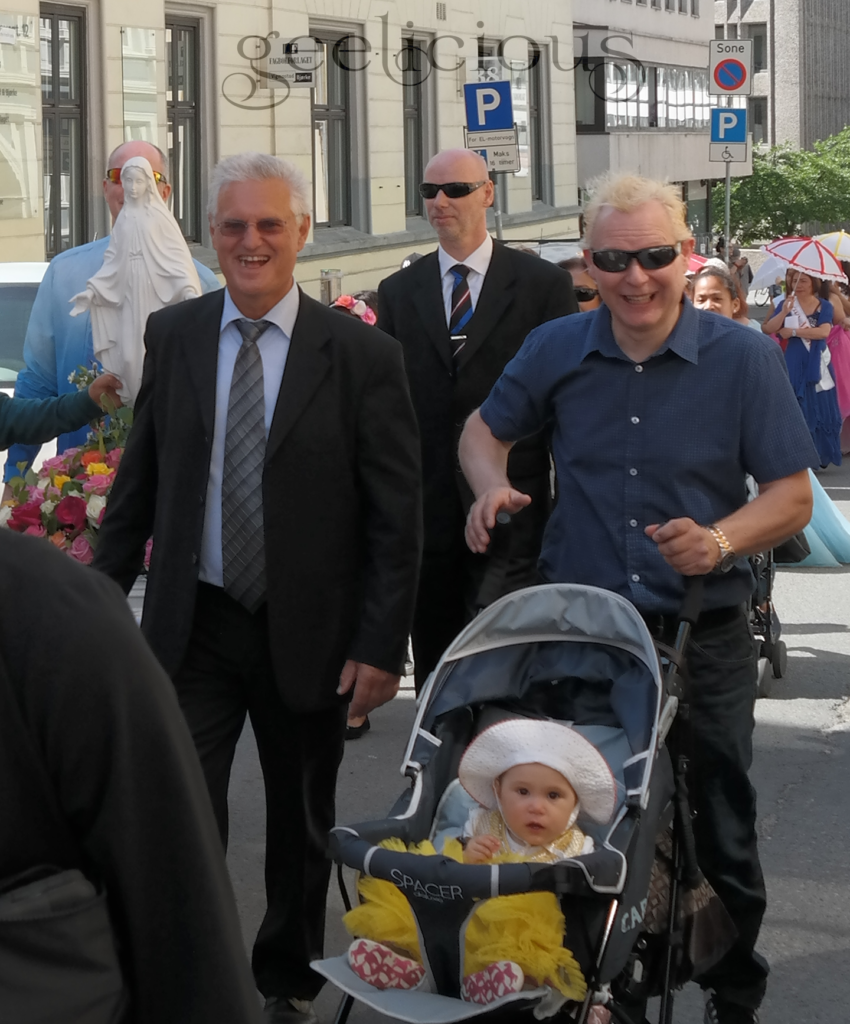 But the "Queens"….  They kept their posture and beauty all the way.
Finally arrived by the St. Olav´s Catholic cathedral,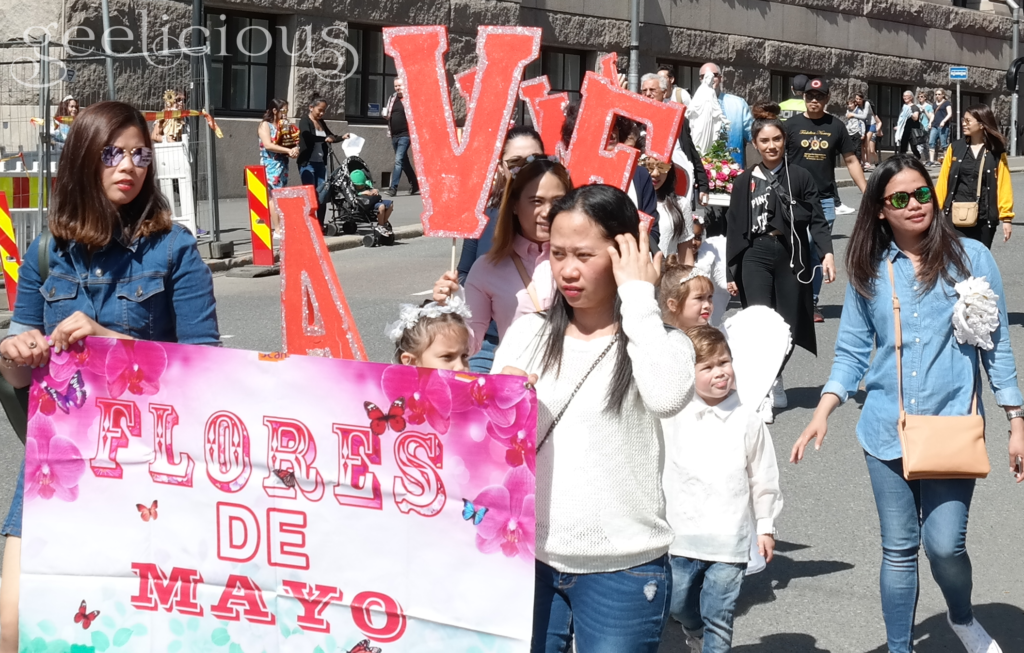 I noticed a cute little boy obviously was happy – to see a familiar place, perhaps?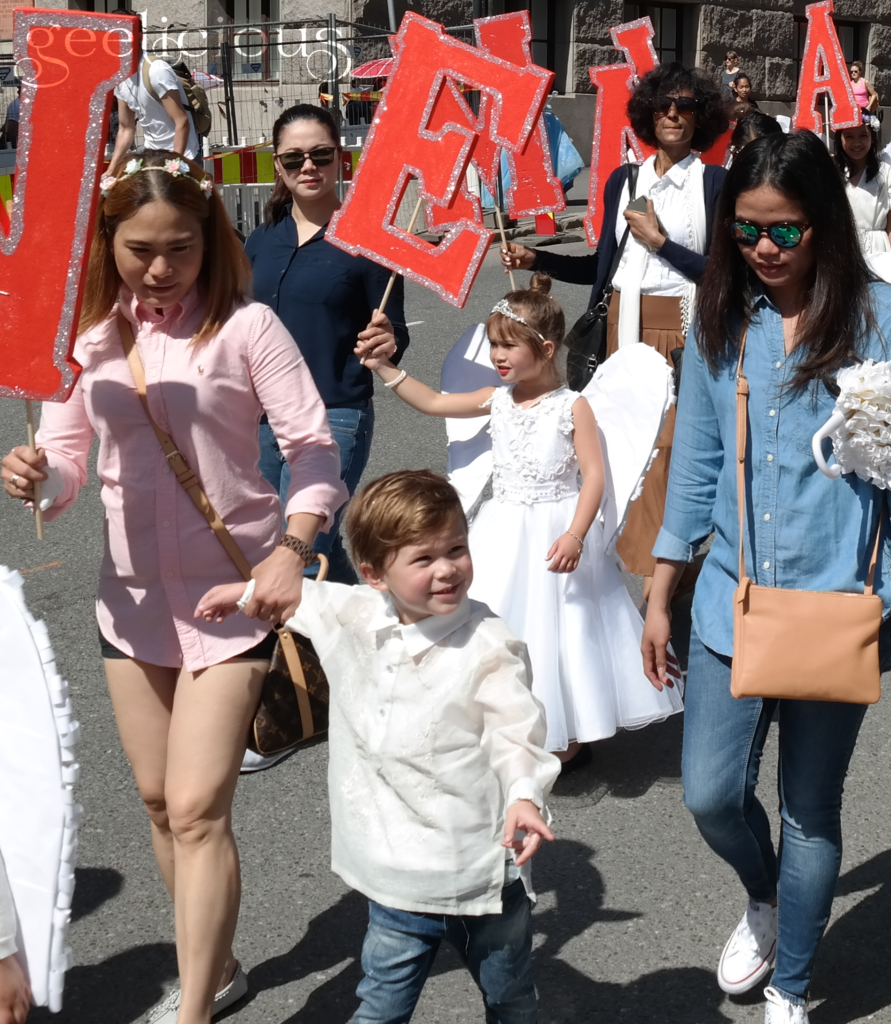 But some looked like they wanna go home already 🙁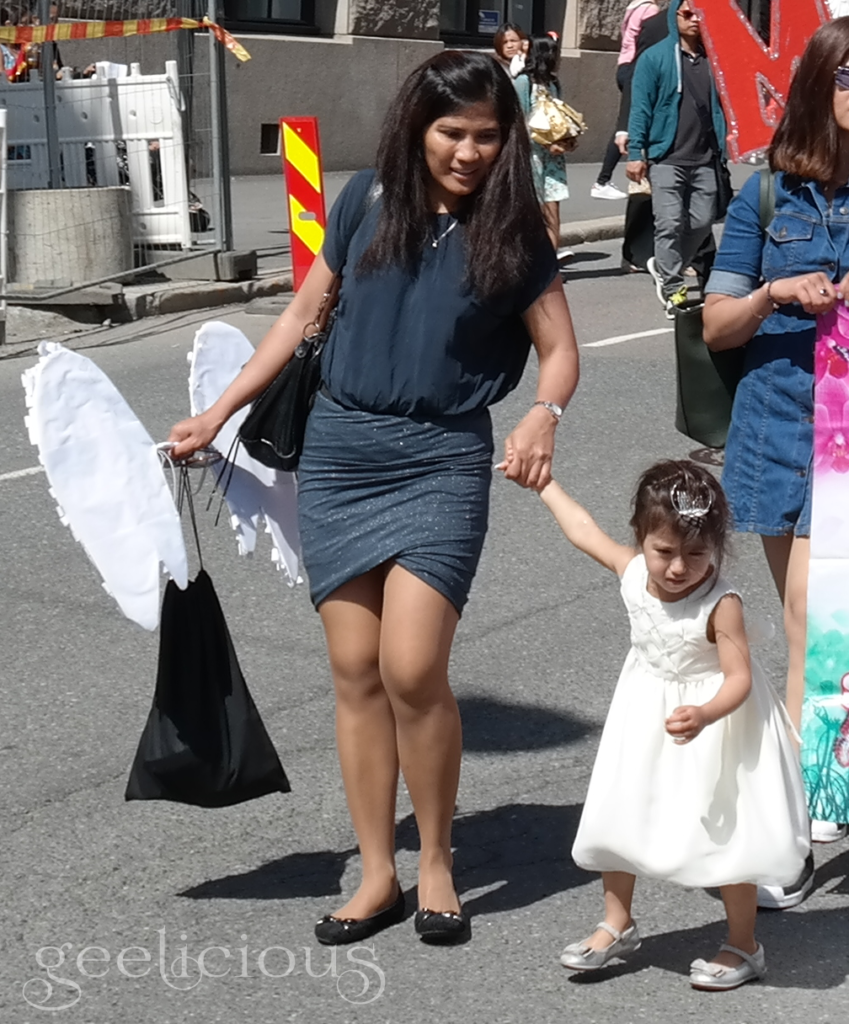 Yet some didn´t want the parade to end without having a selfie  🙂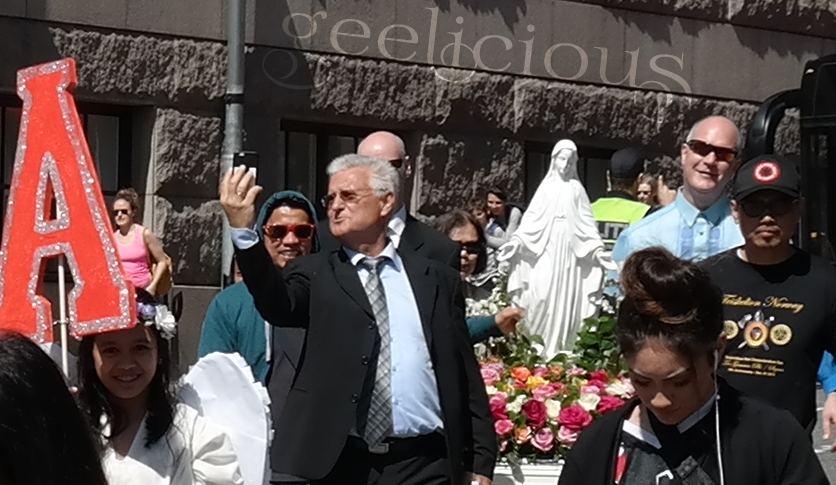 As the crowd headed towards the church,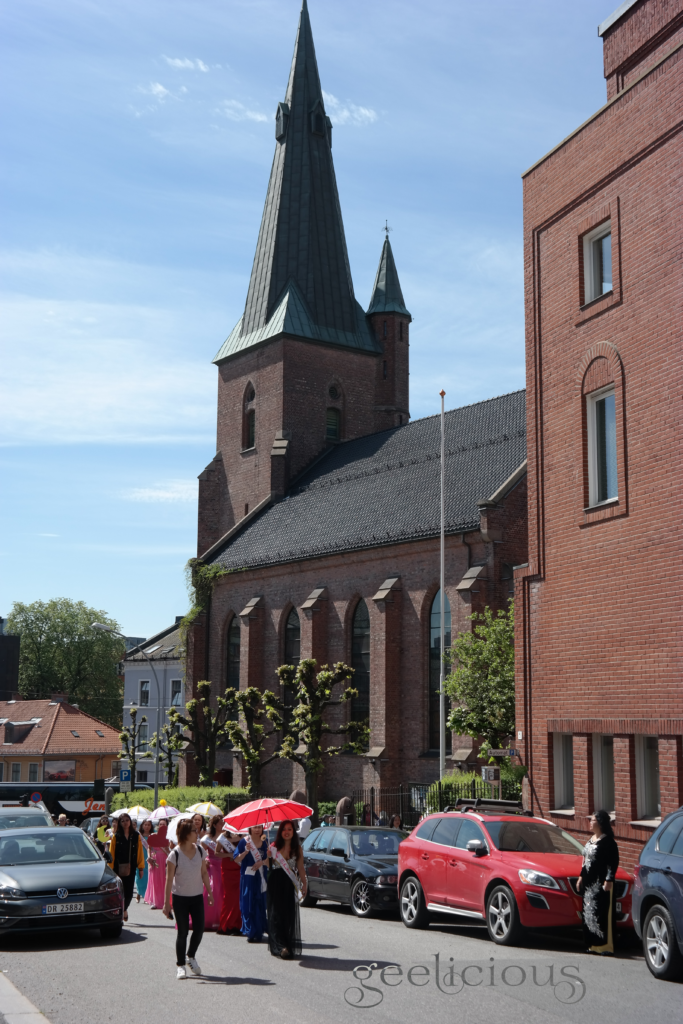 the women carried their sashes proudly as they took their last steps as the "Queens" of this year´s Flores de Mayo.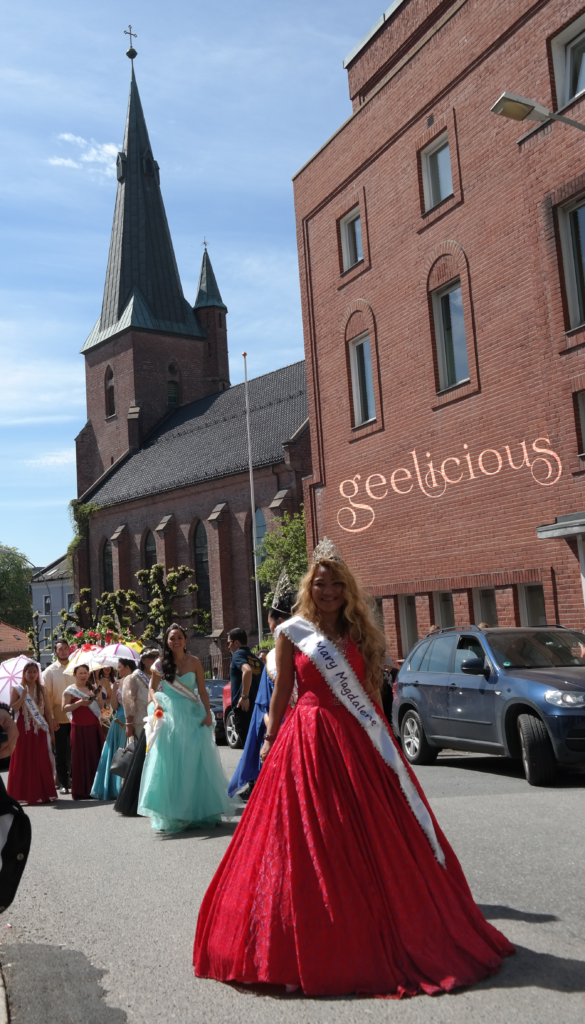 Done being a "Queen"? Why not be a princess too?
Cinderella´s missing a shoe 🙂
Shall we call on the Fairy Godmother for you? 😀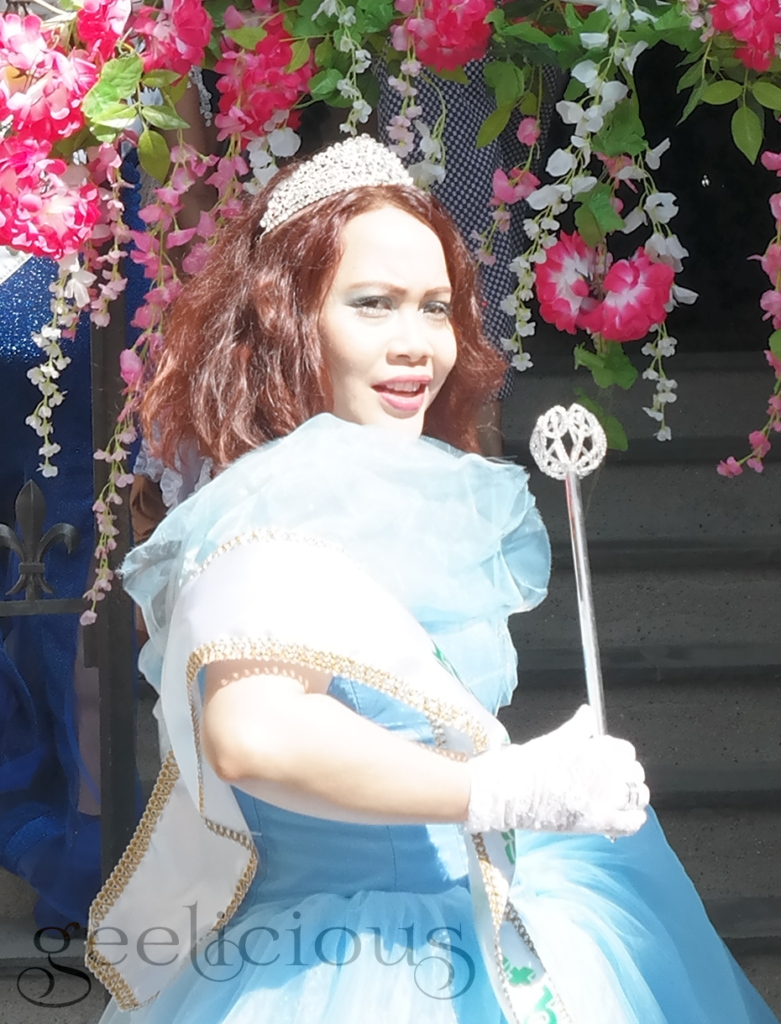 Jokes aside, this tradition is kept in decades now. Ending the parade with a mass and wrapping it up with a small feast.
I am grateful to have met these admirable people.
The "Angels"
The people who carried the statues
Those who held the banner
The Triskelion Norway Org., who guided and worked with the local police in securing the safety of those in the parade.
The " Reyna "s

Get ready for this season´s latest fashion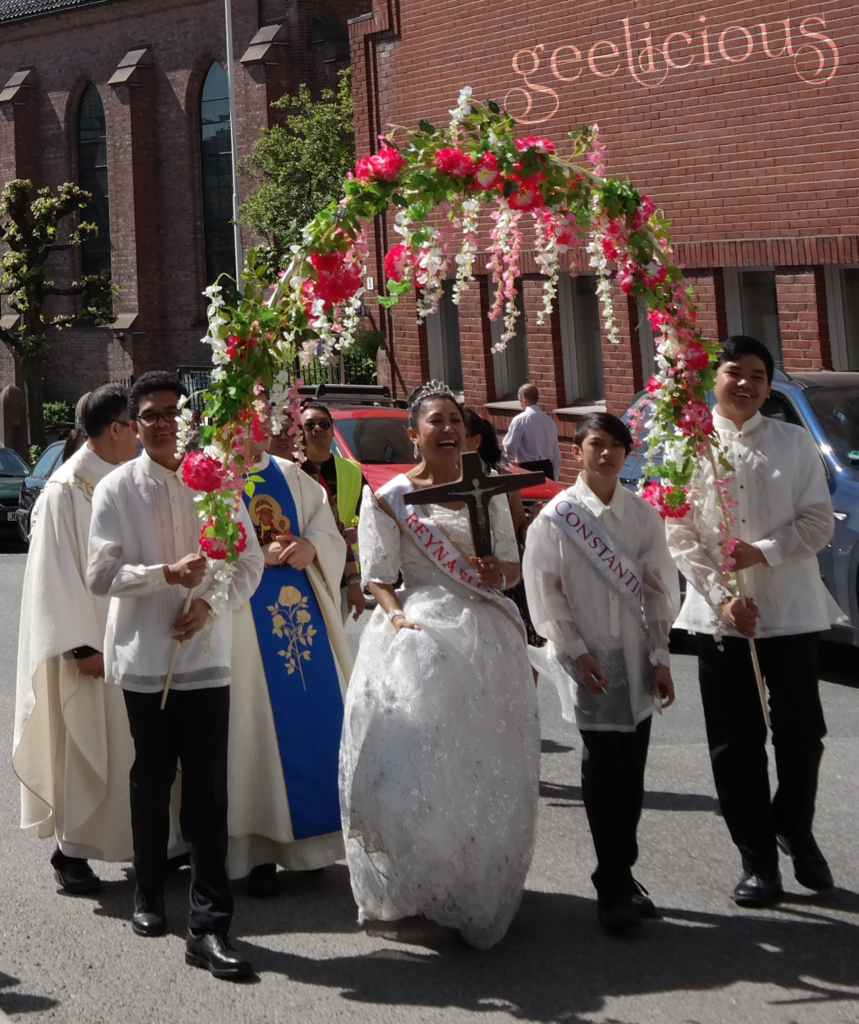 Get your trendiest LOOK right now!
And all those who participated in this event joyously.
Thank you H.A.N. for inviting me!

All rights reserved  @geelicious copyright.